Home | Profile | Services | Training | Hints | Staff | Contact | Links


Training Services
Elm Place Limited has been serving Bath businesses since 1990 and now provides training aimed at improving standards of presentation and productivity in the workplace. Elm Place's Director and Principal Consultant, Frank Thynne has been carrying out on-the-job training for many years and has found a reluctance - perhaps caused by fear - to experiment with the more powerful features provided with today's software. Those features can greatly improve productivity and quality of work, and although many users have the skills to use them, they find it difficult to apply them in their work.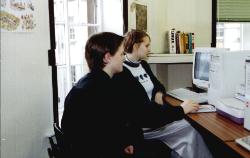 Elm Place Limited's courses will have a small class size - typically four to six trainees for two days - and will create a bridge between skill and application. There is already a well-established body of basic training organisations in the private and public sectors, but finding courses which bridge the gap and take students beyond the basics is not easy. Elm Place's students will also be encouraged to bring and share their work needs and should return to their workplaces better equipped to work productively and to a high quality.
Initial offerings will be titled Getting the Best from ... and will concentrate on the widely-used programs from the Microsoft Office suite: Word, Excel and Access . The courses will be at an intermediate level and will concentrate of the most effective ways of getting results quickly and presenting them attractively with the least possible effort. Getting the Best will help users to strike a balance in choosing between simple and poserful tools for each task.
Elm Place Limited will work with established trainers like Vicky Gallop of ComputerPhobia and Adrian Price to develop short and highly interactive courses for small groups at various levels of experience and, as the needs arise, at various technical levels.
---
© Copyright 2003 Elm Place Limited, Bath, England