Home | Profile | Services | Training | Hints | Staff | Contact | Links


Frank Thynne
is Elm Place Limited's Director and Principal Consultant.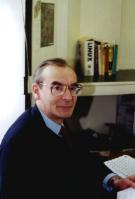 He is a graduate of Trinity College, Cambridge, and began working with computers in the 1960s, when computers occupied whole rooms and sometimes whole buildings!
Past employers include suppliers and users in the industry and he has a wide experience in system design and development and in managing design teams and user departments. His technical experience ranges from developing applications for businesses to the design and programming of development tools, diagnostics and computer communications interfaces.
He has special interests in usability and reliability issues and in promoting systems suited to the needs and capabilities of users. From the outset of his career he has been keen to help users get the best from their systems and in particular he enjoys showing people how to choose the techniques which yield the most reliable and productive results and reject those which give too little benefit for the effort expended.
About thirty years ago Frank established Elm Place Limited as a service to local businesses, offering computer-related consultancy, installation, customising and ancillary services, and also providing technical resources to other firms in the Information Technology industry. The company's unusual name reflects Frank's belief that methods which don't use a computer can sometimes be the most effective!
---
© Copyright 2018 Elm Place Limited, Bath, England